The Reaction GIF: Moving Image as Gesture at the Museum of the Moving Image
March 12 to May 15, 2014
36-01 35 Avenue (at 37 Street)
Astoria, Queens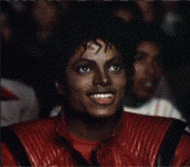 The Reaction GIF: Moving Image as Gesture was a small exhibition of 37 GIFs projected on a wall in the lobby of the Museum of the Moving Image in Queens, NY. (The exhibit has recently closed, but all of the GIFs are of course accessible online.) Jason Eppink, Assistant Curator of Digital Media at the museum, crowdsourced the exhibit with a callout on the social media site Reddit. Addressing the community at large, he wrote, "Comment with what you would consider classic reaction GIFs… then briefly explain what it means when you use it. Think of it as if you had to describe how reaction GIFs are used in Reddit comment threads to your grandmother."
For the grandmothers among us, it should be explained that reaction GIFs are short, looped videos used to convey reactions in written exchanges online—on Reddit, in emails, via text message, etc. (For example, if a particularly delicious disagreement begins, you might post a GIF of young Michael Jackson in a movie theater, stuffing popcorn into his smile, eyes fixed on the screen, to convey expectant glee.) GIFs are "performed language," Eppink says. While many reaction GIFs are something like art—they pique the mind and emotions; they are mesmerizing—for Eppink and other users the actual GIF is not as important as the way is used. Put simply, the reaction GIF is a rhetorical device.
Yet like any well-timed turn of phrase, decontextualization diminishes its wit. Projected (ancient technology!) on the wall of a museum (ancient institution!), the GIFs at the Museum were more like cultural relics than language. Superfluous captions by the Reddit users who submitted them explained what was being conveyed less as grandchild to grandmother than as Mindy to Mork. The thing about humans—and what makes the GIF immediately digestible—is that none of us need a subtitle to explain Orson Welles' unblinking slow-clap or Jennifer Lawrence's sarcastic thumbs-up. From Charles Foster Kane to JLaw, our culture's iconic characters are iconic specifically for their clarity of expression.
A little cultural context would have been more useful. The reaction GIF signifies a web of references beyond its gesture. See (A) rapper 50 Cent in a convertible, looking almost concerned before breaking face to raise his eyebrows, laugh, and pull away. You know what it means. 50 Cent is laughing at you, but even as an object of ridicule you're not worth enough for him to stick around. It would add a layer of meaning, however, to know the clip is from Entourage, a show known for its mocking treatment of social hierarchy. Or (B) Scottish actor David Tennant sadly standing in the rain , one illuminated raindrop tumbling off the tip of his nose, lending some absurdity to his sadness. That Tennant is better known as Doctor Who, a character popular among (dare I say) nerds—who themselves are likely familiar with feeling at once lonely, silly, and dejected—emphasizes its power. GIFs' provenance enhances their meaning. Lifted from movies or shows that themselves carry specific cultural meaning, GIFs are iconic not just culturally, but semiotically.
There is charm to GIFs that halt, then cut back: the charm of the return. But the charm of the seamless GIF is the charm of purgatory. The best GIFs are those which seem not like videos that have been cut and looped but like single, recurrent gestures. Among the GIFs at the Museum of the Moving Image GIFs was a husky gray cat getting repeatedly hit in the chest by a model train. The poor animal's Beckettian ennuie, his unflappable expression, his very catness (cats being, of course, the internet's favorite fools), infused this GIF with a little extra value. He was a kind of passive Sisyphus—his fate was his nature, his nature his fate—his action equal to his reaction. I was inspired. On a roll—so to speak—I tested the internet to see if a more perfect feline Sisyphus was somewhere out there. (Of course, one was.) Predictably, I ended up on an hours-long wild GIF chase through gify.com, an extensive searchable trove of embeddable GIFs that make it possible for anyone to curate a thematic exhibition of GIFs. (Stay tuned for my upcoming Tumblr, GIFyphus.)
The exhibition at the Museum of the Moving Image was meant to be not a show of GIF art, but a primer on reaction GIFs, a casual survey of GIF as cultural phenomenon. Still, the limitation of the reaction GIF is exactly what makes it problematic as exhibition content: The reaction GIF is a synesthetic metaphor. It is a way of saying, "I feel like this looks," and as such must connect the visual with its context. Yet artists like Yoshihide Sodeoka, Evan Roth, Jon Cates, and Sophie Alda treat the GIF as a medium in and of itself, not just a device. Their GIFs do not require any context—and many of them are not just mesmerizing or witty but aesthetically shrewd, idiosyncratic, startling, and sophisticated. Since GIF art is still an emerging form, GIF artists are a diverse group, with backgrounds that range from art to design to computer programming, from film and animation to photography to fashion; what unites them is their rigorous, insightful play with what's really interesting about the iconic GIF.
So the reaction GIF is fun. But it's no longer the point. Next time I see a GIF in a museum, I want it to be the work of an artist like Adam Ferriss, Erdal Inci, Emilio Gomariz, Peekasso, HatePlow, Ryder Ripps, or JD Molero…
…I could go on.
print